Veneers Rockville, MD
Could Veneers Improve Your Smile?
If you've dreamed about getting a brighter, straighter smile, veneers could help!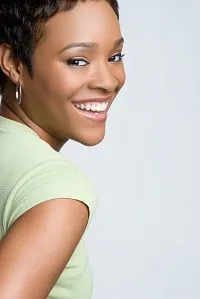 Did you know all the added benefits that smiling can offer you? While it might seem like this second-nature Smiling is nothing more than a friendly way to welcome friends and family, it also provides some added perks for you, too:
Decreases stress
Lowers blood pressure
Increases endorphins (the chemical that makes us feel happy!)
Strengthens your immune system
Not to mention that people find others more attractive, successful, approachable and confident if they smile more; however, if you'd like to smile more but you feel self-conscious, then it might be time to consider how dental veneers could help give you that little boost you need to bring your smile out in the public eye.
The 411 on Veneers
Veneers are thin shells made of porcelain or ceramic that are meant to look just like the front part of a natural tooth. Unlike crowns, dental veneers only go over the front portion of your tooth to cover imperfections and problem areas. and are permanently bonded to your teeth.
What are the benefits of veneers?
Minimal tooth reduction of your tooth enamel
Unlike other dental procedures, very little tooth preparation is needed before we can put on your veneers. We will have to shave a very minimal amount of enamel from your tooth in order to make room for the veneers; however, this step is minor and non-invasive.
Can solve multiple dental issues
Dealing with chips and gaps? Or perhaps you have serious stains, discoloration and minor overlapping. Either way, veneers can fix both of these problems at the same time. Veneers have the ability to hide aesthetically unpleasing parts of your teeth while also transforming your smile.
If you are a coffee or tea drinker, then you'll be happy to know that veneers are stain-resistant. Enjoy your favorite foods and beverages without worrying that they will affect your radiant new smile.
A faster alternative to orthodontics
If you've always wanted to fix that tiny gap between your teeth or your front teeth have some minor overcrowding, you've probably been told you would need braces to fix it. However, what if we told you that dental veneers could hide these problems without having to wear braces? It seems hard to believe, but it's possible to hide these dental problems with veneers.
Do you suffer from any of these dental problems?
Severe discolorations (due to tobacco or antibiotics)
Chipped or fractured teeth
Misshapen teeth
Minor crookedness or overlapping
Small gaps between your teeth
To find out if veneers are the right option for your smile needs,
call our Rockville, MD office today at (301) 963-8900 to set up a consultation.
Are you already enjoying the benefits of a veneer smile? If so, we would love to hear what you've enjoyed most about getting dental veneers.