Dr. Tucker utilizes the most advanced equipment and techniques in her dental practice to provide the highest level of care to her patients.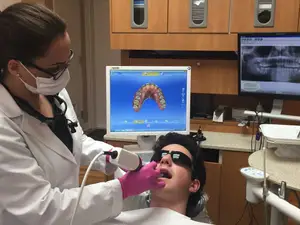 ---
Electronic Medical Records
One of the first things you'll notice when you enter the office is that we have no file cabinets full of patient charts. Dr. Tucker's office has truly gone "paperless" through the implementation of electronic medical records. Your patient records, including x- rays, are digitized and stored on secure, HIPAA-compliant file servers with remote site backup. The system instantly pieces together all of the relevant facts about your treatment and medical history to ensure that no detail is overlooked when you come for care.
---
Same Day Crowns & CEREC
A special treatment provided by our practice is Same Day Crowns with the help of Computer-Aided Design/Computer-Aided Manufacturing, or CAD/CAM. With the help of CEREC technology, we can create dental restorations in just minutes, so you don't have to make multiple appointments. For more information on CEREC and Same Day Crowns, click here !
---
Electronic/Wireless patient registration
At our office, we don't hand you a clipboard with a bunch of paper forms to complete. Our patient registration forms, including insurance and medical history information are completed on Apple iPad™ tablet computers. The information is beamed through secure Wi-Fi directly into your paperless, digital patient file. Of course, if you prefer paper forms, we can provide them and scan the forms into our system later.
---
Digital X-Rays
While in the dental chair, you may notice that the x-ray system doesn't use film. Our GENDEX™ digital radiography system gives you a much lower dose of radiation than traditional x-rays and enables us to instantly display huge bright images of your teeth on over-sized chair side monitors so that you and doctor can clearly see the condition of your mouth and discuss your treatment plan.
---
Patient Edu-tainment System
Bored during that ZOOM!™ tooth whitening procedure? We'll pull up a movie ON NETFLIX!